Discover the beauty and complexity of Korean cuisine in Gourmet, the 2008 breakthrough drama featuring some of the biggest names in Korean entertainment.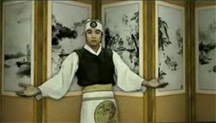 Korean heartthrob Kim Rae Won (What Planet Are You From?, My Little Bride) stars as Sung-Chan, the warm-hearted chef-in-training who loves to cook. In his culinary education, he befriends Jin-Soo (Nam Sang-Mi, Sweet Spy) a headstrong country girl who dreams of becoming a food critic. Although Sung-Chan and Jin-soon don't get along at first, the two quickly join forces in order to make both their dreams come true.
But life gets complicated for Sung-Chan when his step-father learns of his culinary talents and rethinks the inheritance of the family restaurant, creating a newfound sibling rivalry between him and his step-brother, Kwon Oh Joong (Damo). The two brothers begin an intense culinary battle to become top chef of the family business and to discover for once and for all, whose cuisine will reign supreme?!